IPEC Releases an Industry First 400GE Optical Module Interoperability Test Specification, Expediting the Large-Scale Commercialization in the 400G Industry Chain
The International Photonics & Electronics Committee (IPEC) officially released the Test Specification for 100 Gbit/s and 400 Gbit/s PAM4 Optical Module at 100 Gbit/s per Lane (test specification for short), which is the industry's first interoperability test specification for 400GE optical modules. It's compiled by the IPEC Plugfest Work Group, along with the China Academy of Information and Communications Technology (CAICT), Accelink, Huawei, Source Photonics, ZTE, and YOFC. This test specification aims to provide the test basis for the evolution of data center networks (DCNs) to 400GE, and aid numerous optical module vendors and customers identify potential interoperability and compatibility issues and risks in advance, thereby accelerating the large-scale commercial use of 400GE optical modules.
In recent years, the data center (DC) market has demonstrated strong, positive growth, with a large number of new and reconstructed DCs stimulating market demand for optical modules. The rate of optical modules used in DCs is evolving from 100G to 400G. According to the market research institute LightCounting, cloud service companies and large DCs have started the transition to 400G, and this shift began as early as 2019. It is estimated that 400G will dominate the DC market by 2023.
For existing 400GE optical modules, 4 x 106 Gbit/s PAM4 (400G-DR4/FR4/LR4) is used on the optical port side to transmit 400G signals (PAM4: four-level pulse amplitude modulation). On the electrical port side, 8 x 53 Gbit/s PAM4 or 4 x 106 Gbit/s PAM4 electrical signals are used, and the OSFP or QSFP-DD form factor is applied (OSFP: octal small form-factor pluggable; QSFP-DD: quad small form-factor pluggable double density). Compared with OSFP, QSFP-DD has a smaller package size (similar to that of QSFP28 for traditional 100GE optical modules), and is more applicable to DCs.
400GE optical modules are set to become the key hardware for intra-DC optical network interconnection, and achieve large-scale commercial use. Therefore, it's up to the industry to build an open platform so as to fully verify these modules. To create an open interoperable platform for 400GE commercial use and maturity, IPEC launched the interoperability test standard project of 400G Ethernet optical modules in April 2021. To kickstart the research process of the platform, in September 2021, IPEC and its member units jointly demonstrated the interoperability test of 400GE optical modules based on the test platform developed by IPEC Plugfest Work Group at China International Optoelectronic Exposition (CIOE) in Shenzhen; recently, IPEC officially released the test specification, aiming to offer a powerful basis for interoperability performance improvement and optimization plans, as well as accelerate the maturity and large-scale commercial use of 400GE.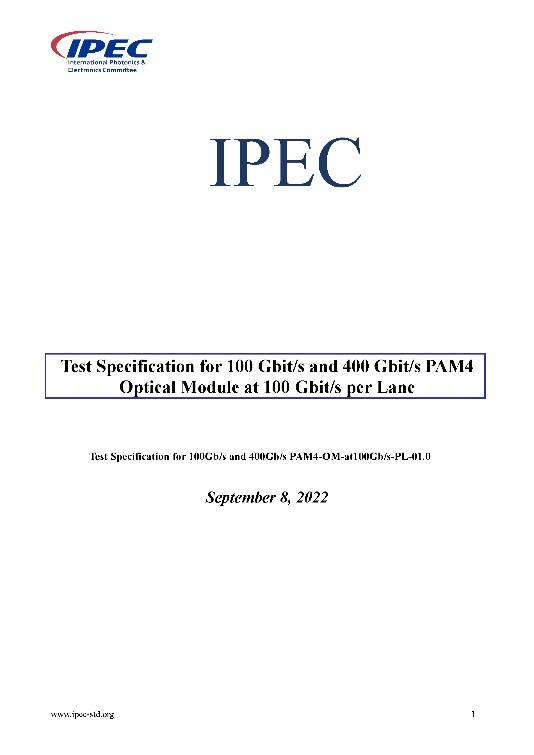 Test Specification for 100 Gbit/s and 400 Gbit/s PAM4 Optical Module at 100 Gbit/s per Lane
400GE optical modules typically apply signal modulation technology PAM4. This technology uses four different signal levels for signal transmission, and each symbol period represents 2 bits of logic information (0, 1, 2, 3). Therefore, to provide the same signal transmission capability, the symbol rate of PAM4 signals only needs to reach half of that of non-return-to-zero (NRZ) signals. However, the signal-to-noise ratio (SNR) of PAM4 signals is inferior to that of NRZ signals. Accordingly, the methods for testing PAM4 and NRZ signals vary significantly.
The test specification comprehensively covers the key test points of 400GE PAM4 optical modules to ensure good interoperability and reliable data transmission between devices. It specifies receiver sensitivity, FEC capability, and overload optical power requirements of interoperability, and clarifies the standards for interoperability tests of 400GE optical modules.
Considering the commercial use of 400GE, the 800GE interface standard has become the next hot topic in the industry. At the end of 2021, IPEC released the baseline standard 800G Gen.1. Moreover, at CIOE 2022 from December 7 to 9, IPEC plans to demonstrate the interoperability performance test of 800GE optical modules together with other member units.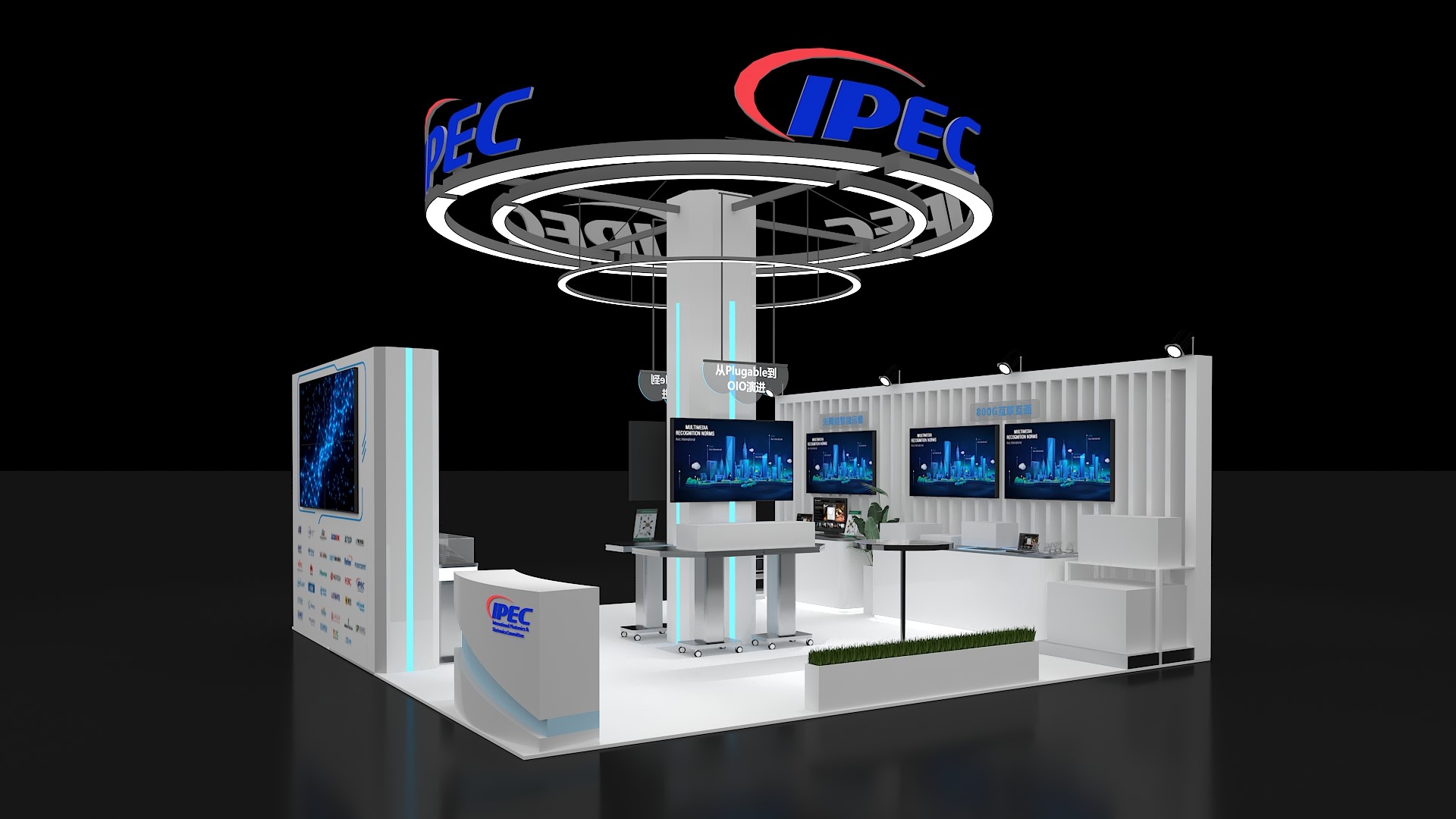 IPEC booth (A71, Hall 12 in Shenzhen World Exhibition & Convention Center) and 800G interoperability exhibition area at the 24th CIOE
The interoperability performance test of 800GE optical modules will focus on 2 x 400G FR4 specifications. Industry-leading optical module companies, such as Accelink, InnoLight, Hisense Broadband, Cambridge Industries Group (CIG), and Source Photonics, will showcase their optical modules for the upcoming 24th CIOE. Meanwhile, IPEC Plugfest Work Group will present self-developed 800GE test devices, VIAVI will demonstrate 800GE test analyzers, and Keysight and EXFO will provide high-performance BER testers and oscilloscopes. IPEC hopes to build an open interoperable platform for the industry to ensure accuracy in the interoperability performance tests of 400GE and 800GE optical modules. These tests will not only provide basic data for introducing 800G technology to DCs, but will also lay a solid foundation for the application and promotion of 800G technology in optical data center interconnect (DCI) based on interoperability networking tests and performance evaluation.
About IPEC
IPEC (www.ipec-std.org) is an international standards organization that is committed to developing open optoelectronic standards and delivering strategic roadmap reports. IPEC focuses on standardizing solutions in optical chips, optical/electrical components, and optical modules. Markets addressed by IPEC include 5G, IoT and AI.
By August 2022, the number of IPEC members has increased from 13 to 39. Currently, the IPEC members include China Telecom, CAICT, Meituan, Huawei, FiberHome, Broadex, CIG, Wenzhou Yihua Connector, Fujitsu Optical Components (FOC), Hisense Broadband, HGGenuine, Source Photonics, Yamaichi, AOI, InnoLight, ZTE, AROPTICS-TECH, Mindsemi, Accelink, O-Net, H3C, YOFC, Foxconn, Shanghai Jiao Tong University, Sitrus Technology, Semtech, Advanced Fiber Resources, ATOP Corporation, SiFotonics, Intel, Acon Optics, JONHON, Suzhou GL Foresight Electronic Technology, Liobate, SENKO, Marvell, VIAVI, Yuanjie Semiconductor Technology, and Dongguan Luxshare Technology.
IPEC is open to any interested party who wishes to join. All members have the opportunity to participate in developing all IPEC standards and reports on a non-discriminatory basis. The process of developing these standards and reports is transparent to all members. IPEC is registered in Switzerland.