During the European Conference on Optical Communications (ECOC) 2023 held at the Scottish Event Campus (SEC) in Glasgow from October 1 to 5, 2023, the International Photonics & Electronics Committee (IPEC) held "Advanced Optoelectronics Summit" at ECOC Product Focus and a wireless fronthaul panel discussion at ECOC Market Focus, conducting extensive communication and discussions with global experts.
The Advanced Optoelectronics Summit was held on October 2, 2023. Participants included Li Junjie (Chairperson of IPEC), Zhao Wenyu (Vice Chairperson of IPEC), Hideki Isono (Vice Chairperson of IPEC), Xu Yu (Executive Secretary-General of IPEC), Tom Issenhuth (Chairperson of IPEC's PMD Work Group), Frank Chang (IPEC's Advanced Technology Work Group), Liu Lu (Chairperson of IPEC's Plugfest Work Group), Eric Bernier (IPEC Editor), Peng Xiaolin (Chairperson of IPEC's Marketing Group), and the following expert representatives from IPEC's member units: Jim Theodoras (HG Genuine), Xin Wei (CIG), and Tiger Ninomiya (SENKO).
Advanced Optoelectronics Summit at ECOC Product Focus
This Summit provided an in-depth introduction to IPEC's organization development and standards project progress, as well as the latest optoelectronic technology achievements of its member units. It aimed to share with global optoelectronic partners IPEC's innovation achievements in new technical domains, including Linear Direct Drive, Optical Input/Output (OIO) or Co-Packaged Optics (CPO), Pluggable External Laser Source (PELS), 400G/800G test platform, and next-generation fronthaul technical solutions, which can be used as a reference in the industry.
Dr. Liu Lu from CAICT, Chairperson of IPEC's Plugfest Work Group, introduced the progress of IPEC's 800G optical module testing project. The project tested the 800G Linear Pluggable Optics (LPO) module as well as the performance and interoperability of switch-equipped 800G optical modules from multiple vendors. Jim Theodoras, Vice President of R&D at HG Genuine, revealed that the rapid development of AI computing and data centers drives the Ethernet rate to evolve towards 800 Gbit/s, but that the 800 Gbit/s standards are still yet to be released. Dr. Xin Wei, Vice President of CIG's Marketing Dept, divulged the simulation test progress of the OSFP DR8 800G LPO module and the results of the comparison between multiple performance loss compensation methods. Tiger Ninomiya, Senior Expert from SENKO, introduced the high-density VSFF optical connector solution oriented to 100T+ CPO applications.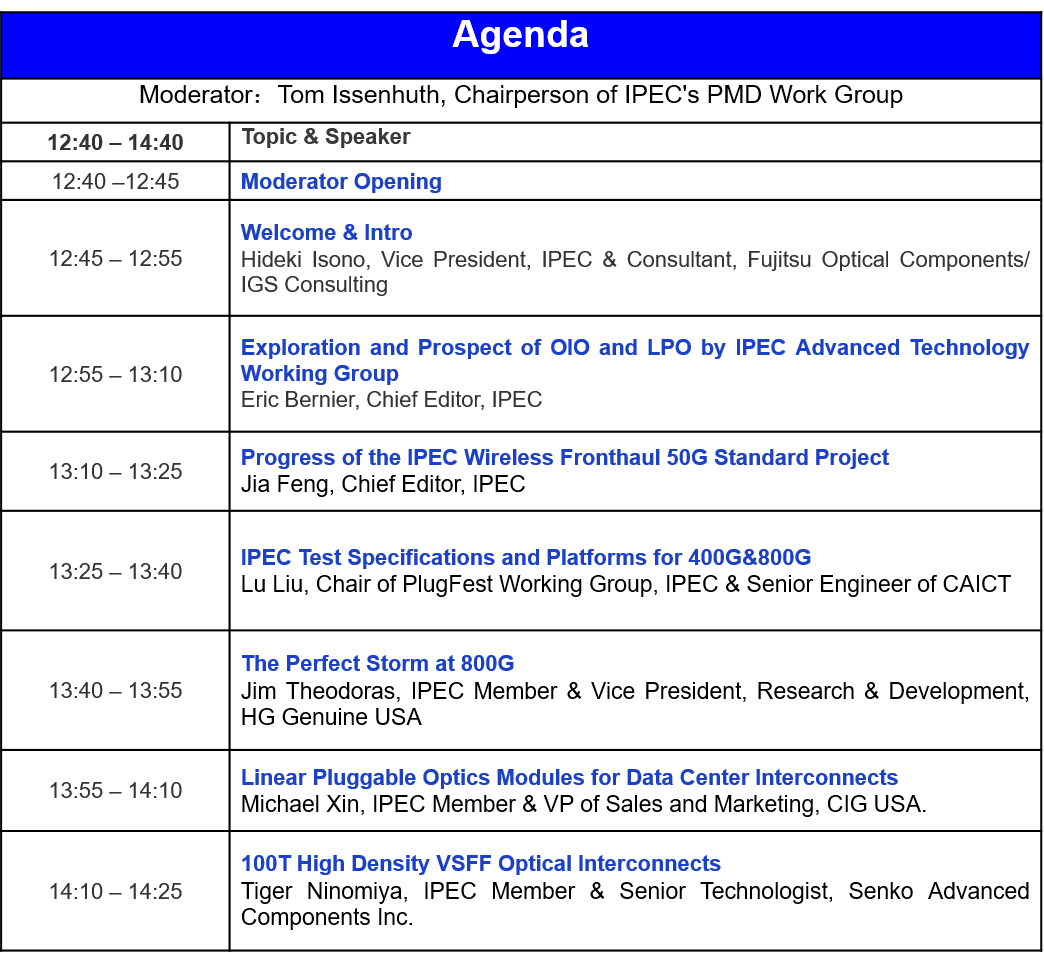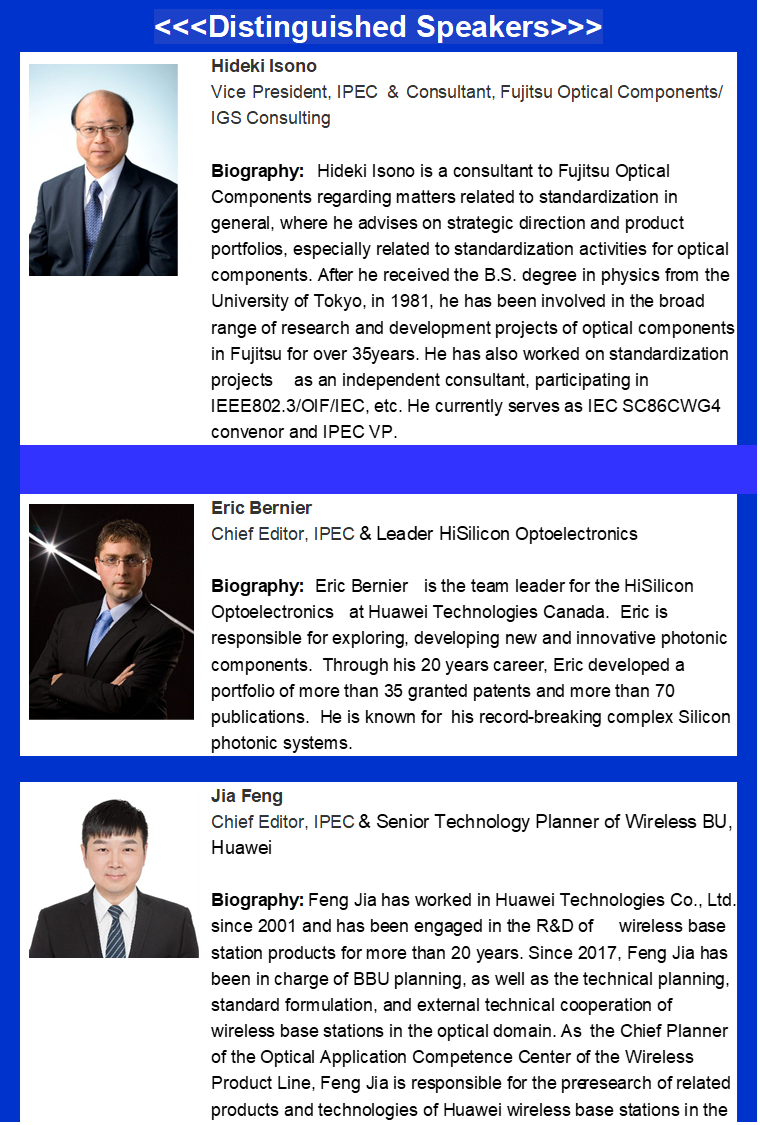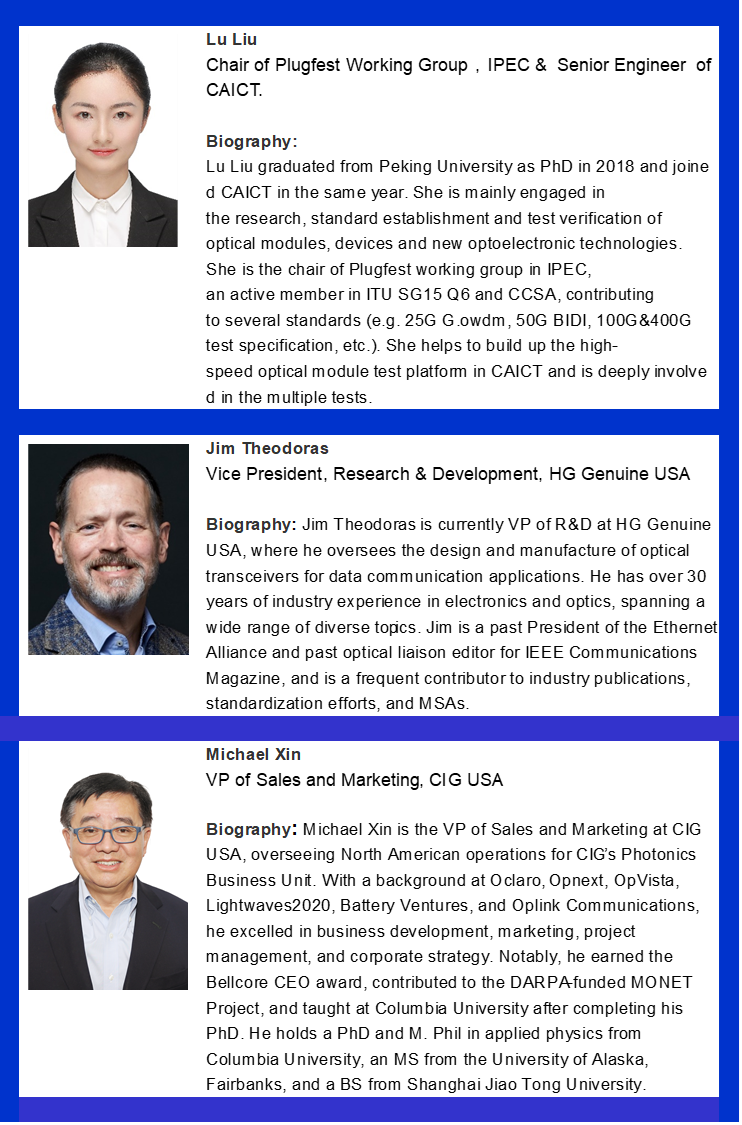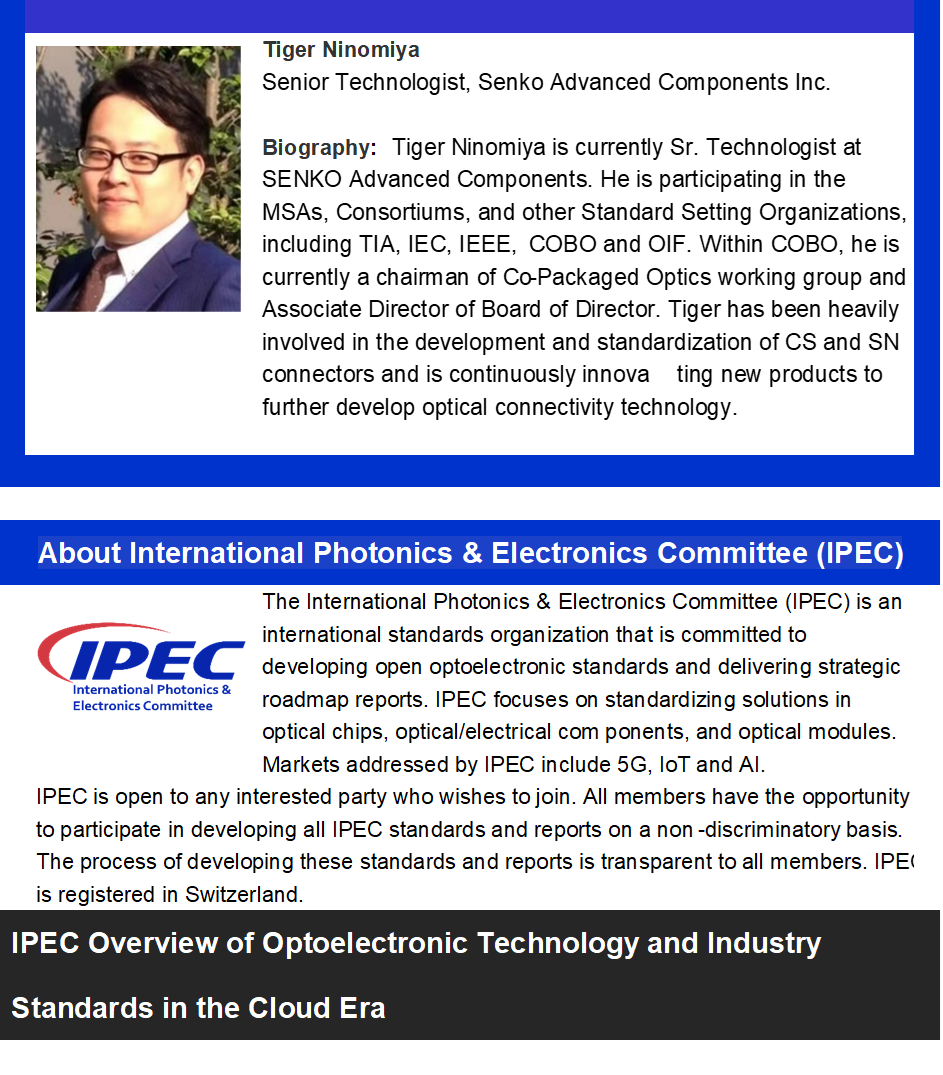 ECOC 2023 provided a comprehensive demonstration and interaction platform for IPEC. Many technical experts from IPEC's member units shared the latest technical research progress and industry development trends in the optoelectronic communications field. They also discussed and took insight from IPEC's standards and industry projects, with an aim of building an open and broad platform for developing the global optoelectronic industry. Going forward, IPEC hopes to cooperate with more optoelectronic companies and experts in standards organization work to promote the continuous prosperity of the global optoelectronic industry.
About IPEC
IPEC (www.ipec-std.org) is an international standards organization that is committed to developing open optoelectronic standards and delivering strategic roadmap reports. IPEC focuses on standardizing solutions in optical chips, optical/electrical components, and optical modules. Markets addressed by IPEC include 5G, IoT and AI.
IPEC is open to any interested party who wishes to join. All IPEC members have the opportunity to participate in the development of all IPEC standards and reports on a non-discriminatory basis. The process of developing these standards and reports is transparent to all members. IPEC is registered in Switzerland.