During the European Conference on Optical Communications (ECOC) 2023 held at the Scottish Event Campus (SEC) in Glasgow from October 1 to 5, 2023, the International Photonics & Electronics Committee (IPEC) and its member units participated in and hosted multiple summits on advanced optoelectronic technologies, conducting extensive communication and discussions with global experts.
IPEC focuses on conducting strategic research and standardizing solutions in optical chips, optical/electrical components, optical modules, and optoelectronics-related fields. At the ECOC, Mr. Hideki Isono, Vice Chairperson of IPEC and consultant of Fujitsu, issued IPEC Work Summary 2020–2023 to the industry peers present at the IPEC Advanced Optoelectronics Summit.
Advanced Optoelectronics Summit at ECOC Product Focus
According to Mr. Isono's report, since the founding of IPEC in 2020, IPEC's Advanced Technology Work Group has initiated 13 standards and research projects. With joint efforts and active contributions of all members and industry experts, this Work Group has made the following achievements: in the field of 400G/800G high-speed optical connections, it released the Test Specifications for 100 Gb/s and 400 Gb/s PAM4 Optical Modules at 100 Gb/s per Lane and 800 Gb/s PMD Implementation Agreement, and completed the testing and certification of 400G optical modules; for next-generation wireless optical technology solutions, it released the White Paper on Survey of Optical Modules in Wireless Fronthaul, which analyzes the application scenarios of next-generation wireless fronthaul optical modules in detail. In terms of innovative optoelectronic technologies, IPEC initiated the standards research on the ultra-high-speed optical interconnection technology — 100T+ Optical Input/Output (OIO) — and its Pluggable External Laser Source (PELS) solution in 2021. The standards are due to be officially released in Q4 2023.
Panorama of IPEC's standards and research projects
For short-haul optical Data Center Interconnect (DCI) solutions, IPEC demonstrated the 800G optical module testing project organized by China Academy of Information and Communications Technology (CAICT) — Chair of IPEC's Plugfest Work Group. The project tested the 800G Linear Pluggable Optics (LPO) module, as well as the performance and interoperability of switch-equipped 800G optical modules. Participating in the test were IPEC members Accelink, Hisense, Source Photonics, and CIG, partner SNOT, and meter and device vendors Viavi, Keysight, EXFO, Spirent, and H3C.
IPEC 800G optical module test
As wireless networks evolve towards 5.5G/6G, more antennas and wider frequency bands will be applied in wireless fronthaul scenarios, and the port rate will increase from 25 Gbit/s to 50 Gbit/s or as high as 100 Gbit/s, which will be enabled by next-generation fronthaul optical interconnection technologies. All this will support flexible improvement of fronthaul bandwidth. At ECOC Market Focus, IPEC and LightCounting hosted a panel discussion entitled "Connectivity for 5G and Beyond", inviting experts from Orange, Ericsson, China Telecom, Huawei, and HG Genuine. The panel discussion covered many hot topics like challenges to massive amounts of fronthaul, midhaul, and backhaul data generated in 5.5G/6G-oriented bandwidth/antenna evolution, in addition to challenges to cost-effective CRAN aggregation (colored light).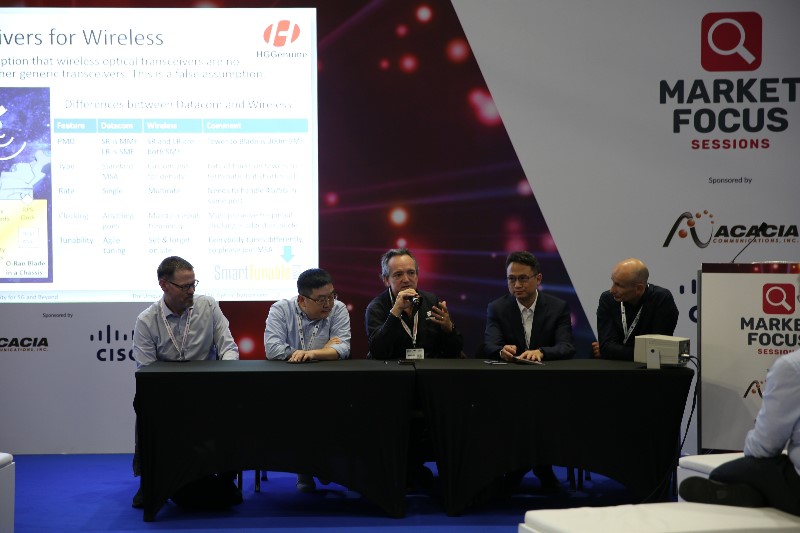 Wireless fronthaul panel discussion at ECOC Market Focus
Invited by the organizing committee, Dr. Li Junjie, Chairperson of IPEC and Chief Optical Transmission Expert of China Telecom, released the Evolution of Fronthaul Optical Interfaces to 50 Gb/s and Beyond report, which describes operators' requirements for services and rate improvement on next-generation fronthaul solutions, the key technical challenges, and the phased achievements of IPEC's 50G fronthaul standards project. Dr. Zhao Wenyu, Vice Chairperson of IPEC and member of CAICT, was also invited to release the Advanced Optoelectronics Evolution Framework Upgrades Data Centers Towards 100T+ report. This report describes IPEC's planning and work roadmap of DCI-oriented requirement survey, technology evolution, and standards initiation, including 800G/1.6T evolution, OIO PELS/CPO PELS, and Linear Direct Drive technologies.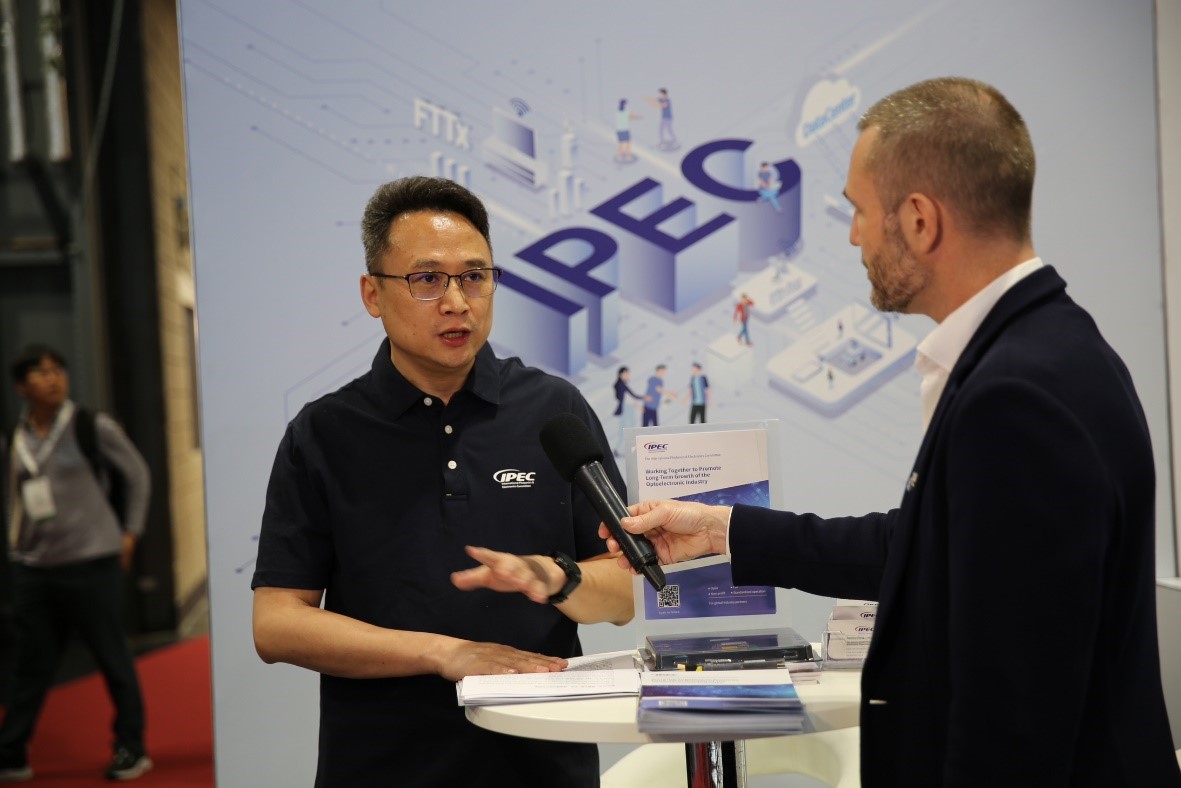 Dr. Li Junjie interviewed by ECOC
The founding mission of IPEC is to aggregate industry forces and jointly support the long-term development of the optoelectronic industry through standardization, strategic roadmap research, and industry and technology summits based on fully transparent, fair, and just optoelectronic standards and platforms. Dr. Li Junjie said, "After three years of development, IPEC has made some achievements in the field of optoelectronic technologies, with active contributions and support from all members and experts. To meet the requirements of increasing application scenarios in the future-oriented AI era, optoelectronics technologies are embracing a new round of opportunities and challenges. IPEC will continue to work with industry peers to explore the development direction of cutting-edge optoelectronic technologies in the new business environment."
About IPEC
IPEC (www.ipec-std.org) is an international standards organization that is committed to developing open optoelectronic standards and delivering strategic roadmap reports. IPEC focuses on standardizing solutions in optical chips, optical/electrical components, and optical modules. Markets addressed by IPEC include 5G, IoT and AI.
IPEC is open to any interested party who wishes to join. All IPEC members have the opportunity to participate in the development of all IPEC standards and reports on a non-discriminatory basis. The process of developing these standards and reports is transparent to all members. IPEC is registered in Switzerland.