LightCounting and IPEC kindly invite you to a virtual webinar
Data-intensive applications constantly emerge along with the development of 5G, big data, and cloud computing, and further drive the development of the digital world. The resulting surge in data places increased strain on network bandwidth.
The evolution from Pluggable to Optical Input/Output (OIO) brings optical components closer to switching application-specific integrated circuit (ASIC) chips, significantly reducing per-bit costs and improving energy efficiency. However, the CDR/DSP-based architecture still faces heat dissipation challenges caused by highly concentrated heat sources. In response, the industry is considering the introduction of the Linear Transceiver technology to lower power consumption, latency, and costs, especially for applying pluggable optics and OIO optics in data centers.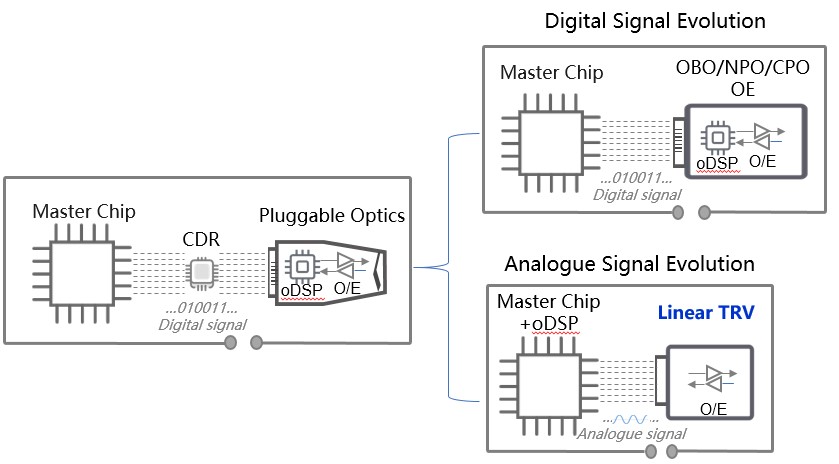 In view of this, the International Photonics & Electronics Committee (IPEC) and LightCounting will hold a global webinar on March 22, 2023. The webinar will focus on the application of Linear Transceiver in the data center optical domain. We sincerely invite industry experts to participate in the discussion.
Webinar Theme          Linear Enables Green All-Optical Connectivity for DCs
Time                            09:00–11:00, March 22, 2023 (CST)
                                    20:00–22:00, March 21, 2023 (EST)
                                    17:00–19:00, March 21, 2023 (PST)
Form                            Zoom online conference room, free
Language                    English
Organizers                  IPEC & LightCounting
Register in advance for the webinar at this link:
https://us02web.zoom.us/webinar/register/WN_BAseVbuMSSGni1XEix7Z5A